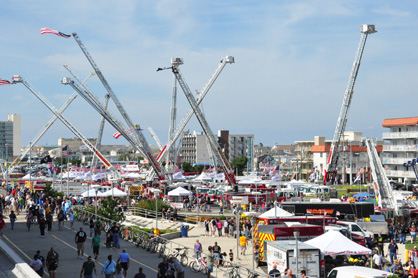 New Jersey State Firemen's Convention and Parade – CANCELLED
This convention has been cancelled for 2020.  We look forward to the return of this event in 2021.
The Annual Convention of the New Jersey State Firemen and Life Members at the Wildwoods Convention Center featuring meetings, seminars and business sessions. Firetrucks from around the state will be displayed in the Wildwoods Convention Center parking lots and merchandise vendors can be found across the street at Fox Park. The American Red Cross will host a Blood Drive on Friday from 8 a.m. until 1 p.m. inside the Convention Center – all are welcome. Firemen's Parade will be held on Saturday at 2 p.m. along New Jersey Avenue, from Cresse Avenue in Wildwood Crest, proceeding north to 20th Avenue in North Wildwood. For more information call 856.433.0386 or visit njsfa.com.
Add To My Trip