The Delaware Indians, specifically the Lenni Lenape, were among the earliest settlers of the region we now know as the Wildwoods and it was they that inhabited the Five Mile Beach area on August 28, 1609 when Henry Hudson sailed the Half Moon into Delaware Bay. Robert Juet, a member of the crew, recorded the beauty of the site. Realizing that this was an inlet and not the Northwest Passage to China Hudson and the Dutch East India Company sought he sailed north and left no settlers. The area was unexplored until 1664 when Charles II conveyed the land to the Duke of York. There appear to be a number of land claimants until 1717 when the West Jersey Society passed the title to four investors who used it primarily as farmland.  Scandinavian fishermen, the first white settlers, moved onto the land after the Civil War and named the area Angelsea.
The 1950s and 1960s were truly a Golden Era for America and for generations of families who took to the highways in tail-fin cars to share vacations at the shore. And, for those folks whose summer vacations were spent along the sun-splashed beaches of the Southern Jersey Shore, the Wildwoods By-the-Sea were the epicenter of the East Coast's post-World War II cultural explosion. The splashy resort was midwife to the birth of rock 'n' roll music and host to most of the top entertainers of the day. At the same time, it was the proving ground for a funky new architectural form that added an exotic aura to the legions of motels that sprang up along Five-Mile Island. Like the music of the time, the architecture has become known nationally as the Doo Wop style– and the Wildwoods are considered the Doo Wop Capital of the World.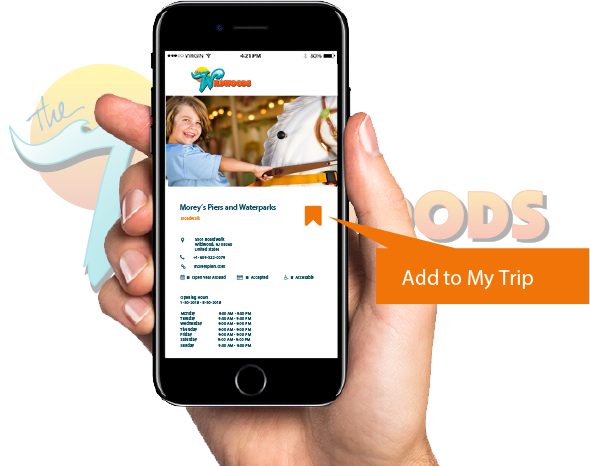 The Wildwoods Trip Builder
YOUR GUIDE TO PLANNING YOUR VACATION
Use our interactive tool to select your favorite events and attractions and save them to your itinerary at the push of a button. You can plan your vacation from your computer or phone so you can make the most of your trip. Select your trip duration and start flagging things you'd like to do.
Any of the items in our Plan a Vacation section can be added to the My Trip section of our site. When you are finished you can save your trip, print it out or share it with your friends and family. Click on the My Trip page at any time to view your trip or head to the Plan A Vacation section to start selecting events and activities for your upcoming Wildwoods vacation.