Win A Wildwoods Family Vacation!
TWO LUCKY WINNERS WILL BE SELECTED!
How to Enter
Just fill out the entry form and you will be entered into both Wildwoods Family Vacation Giveaways (one entry per person only.) Winner will be notified by email and mail on May 26, 2023 for the Spring drawing and on October 27, 2023 for the Fall drawing. Prizes must be claimed via email or phone within 30 days of contest drawing or winner will forfeit prize. Prizes are subject to change without notice.
Who Can Enter
Everyone who fills out the entry form on the WildwoodsNJ.com contest website is eligible to win*. No purchase is necessary. Only one entry per person allowed. Multiple entries will invalidate all your entries and you will not be eligible for the contest. By entering one time, you are eligible for both Family Vacation Giveaway Contests which will be drawn on May 26, 2023 and October 27, 2023.
Register to win a fabulous Family Vacation for four in the Wildwoods which includes:
Congratulations to Richard Silverman of Monroe Twp, NJ who was the winner of our 2023 Spring Vacation Getaway Drawing!


Rules
The winner of the Family Vacation Getaway drawn on May 26, 2023 must use their prize package prior to August 31, 2023.
The winner of the Family Vacation Getaway drawn on October 27, 2023 must use their prize package prior to August 29, 2024.
GWTIDA, its affiliates, partners or employees are held harmless from any liability or lawsuit arising out of conditions associated with usage of any of the prizes. GWTIDA reserves the right to permanently disqualify any person if they believe that person has intentionally violated these rules.
By entering one time, you will be eligible for the two Grand Prizes of a 4-Day, 3-Night Family Vacation in the Wildwoods. The winner will be selected by random computer drawing and will be notified by email and mail. Winners must claim their prize via email or phone within 30-days of the drawing. Any prize not claimed within the 30 day period will be forfeited.
A valid government photo I.D. is required at check-in. Results of all prize drawings will be posted on the WildwoodsNJ.com website and announced on the Wildwoods' social media pages.
Mail-in entries will also be accepted by sending a standard postcard with Vacation Contest Entry printed at the top of the postcard. You must also include your name, complete mailing address, phone number and email address. Mail to:
FAMILY VACATION CONTEST
Marketing Department
Wildwoods Convention Center
4501 Boardwalk
Wildwood, NJ 08260
All entries must be received by May 26, 2023 and October 27, 2023 to be eligible. All transportation, gratuities, duties or fees are the responsibility of the winners. Winners agree to allow his or her name and likeness to be used in promotional materials and advertising without further compensation. Accommodations are based upon availability, Monday through Thursday occupancy only. Certain restrictions and black-out dates may apply.
Prizes must be claimed no later than June 25, 2023 and November 26, 2023 respectively, or winner will forfeit prize. All decisions by contest judges will be final. Employees and immediate family members of employees of GWTIDA, The Wildwoods Convention Center, The NJSEA or their affiliates, ASM Global and Delaware North are ineligible to participate.
Privacy:
We value your privacy and will not give, sell or rent your e-mail address to any third party. If you decide to share your contact information, you may receive occasional news, updates or mailings from the Greater Wildwoods Tourism Improvement and Development Authority or the Wildwoods Convention Center in the future, but you will have the ability to opt-out of that communication at any time.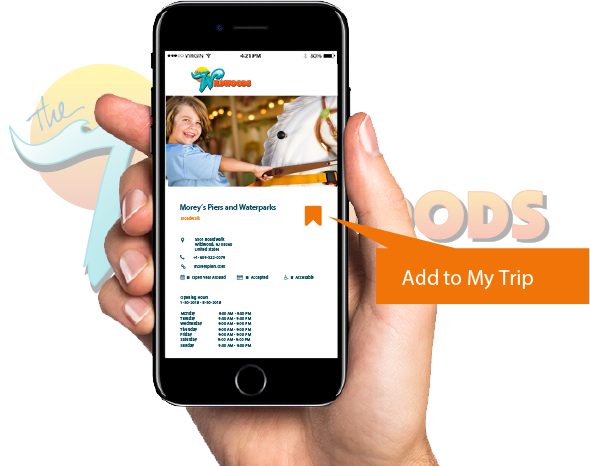 The Wildwoods Trip Builder
YOUR GUIDE TO PLANNING YOUR VACATION
Use our interactive tool to select your favorite events and attractions and save them to your itinerary at the push of a button. You can organize your trip from your computer or phone so you can make the most of your trip. Select your trip duration and start flagging things you'd like to do.
Any of the items in our Plan a Vacation section can be added to the My Trip section of our site. When you are finished you can save your trip, print it out or share it with your friends and family. Click on the My Trip page at any time to get started or visit our Trip Builder pages for step by instructions.