The Wildwoods 5-miles of FREE beaches,  rated as "New Jersey's Best Beaches,' are the widest, cleanest and safest beaches on the New Jersey Shore with plenty of room for all your favorite beach activities. Whether you just want to relax or take a leisurely stroll along the water's edge, engage in a spirited game of Beach Volleyball, toss a frisbee or play in the ocean, you can spend your day at the beach your way.
The Wildwoods beaches are guarded by expert Lifeguards from Memorial Day Weekend through Labor Day from 10:00 a.m. to 5:30 p.m. daily. For those who don't want to cart your beach equipment there are beach taxis that will cart everything for you for a small nominal fee. At many locations there are stands renting beach chairs and beach umbrellas as well surfboards and boogie boards.  
Lifeguards, First Aid and Handicap Beach Access
The Wildwoods beaches are guarded by expert Lifeguards from Memorial Day through Labor Day, 10 a.m. to 5:30 p.m. daily. Handicap access is available by contacting the beach patrol for the corresponding area.
North Wildwood: 609.522.7500
Transport via surf chairs at First Aid Station at 15th Avenue
Wildwood: 609.522.8258
Contact lifeguard headquarters at Lincoln Avenue and beach
Wildwood Crest: 609.522.3825
Contact lifeguard headquarters at Rambler Road and beach
Dog Beaches
Dogs are allowed on Wildwood and Wildwood Crest beaches from October to May, and on the North Wildwood beach at any time except for when lifeguards are present (9:30am-5:30pm), but are not allowed on the Boardwalk at any time. Dogs must be on a leash and owner must pick up and dispose of droppings. A "dog friendly" park and beach is located at Glenwood Ave in Wildwood and clearly marked with a giant fire hydrant sculpture. Hours are from 6 a.m. until dusk. A dog park is located on the east side of the beach at 24th Avenue in North Wildwood, a permit ($10) is required for your dog and hours are 8 a.m. until dusk.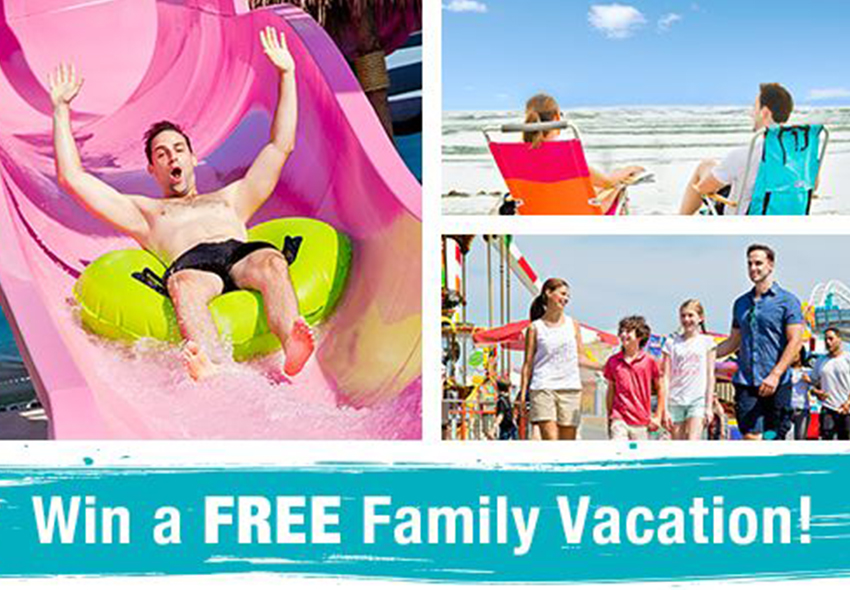 You deserve a vacation and The Wildwoods are here to help. We give away two family vacations every year and all you need to do is sign up to enter.  No purchase is necessary to participate.
Winner will be notified by email and certified mail on Prizes must be claimed via email or phone within 30 days of contest drawing or winner will forfeit prize. Click the button below to view contest information.