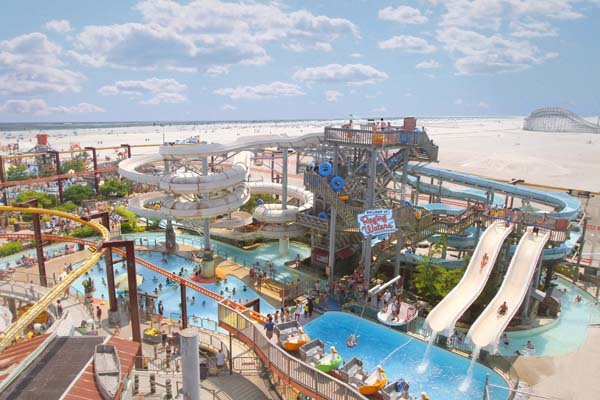 Raging Waters on Morey's Mariners Landing Pier
Wildwood
Raging Waters Water Park will make your heart race with wet and wild adventure! Like a shipwreck at the mouth of a mighty river the park is packed with treasures for the whole family to uncover whether it's private cabanas, the float-up snack bar serving root beer floats while you float in the River Adventure and experience the twists and turns while embarking on this endless expedition of family fun! Up for a challenge? Take the whole family over to the activity pool and try out all of the family friendly obstacles. Plummet over Shotgun Falls, drift through the Wildwood skyline on the Sky Pond Journey and discover all of the unique water attractions. Raging Waters offers two unique kiddie play areas.
Discover the water canons Shipwreck Shoals or play boys against girls at Camp KidTastrophe. The three level activity area boasts fun for the whole family with cargo nets, climbing ropes, water guns, water sprays and slides in these interactive children's play areas. Whether you're in Raging Waters Water Park or hanging out at the beach grab lunch at Wrecker's Beach Grill and eat under the umbrella-covered tables on the outdoor patio overlooking the beach. The menu is packed with classic summertime favorites to satisfy all of your cravings. Fill up on cheesesteaks, wraps, salads, personal pizzas and more!
Be sure to check out our morning and afternoon specials. Visit http://www.moreyspiers.com for insider tips, events and great specials.