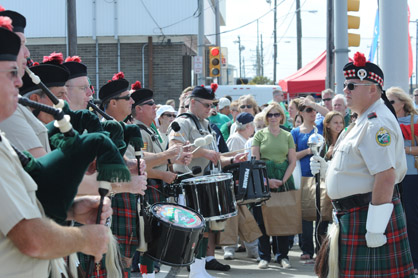 Annual Irish Fall Festival
UPDATE
The following adjustments have been made to the Irish Fall Festival Saturday (9/22) events.
-Registration and sign ups for the 5K Race will take place inside the Anglesea Volunteer Fire House hall at 8am at 2nd and Olde New Jersey Avenues. You can enter from the double doors on 2nd Avenue.
-The Piper exhibition will take place inside the North Wildwood Recreation Center at 900 Central Avenue at 10am.
-All other events are on as scheduled, at this time. Please check facebook for additional information
.
Olde New Jersey Avenue and surrounding pubs, North Wildwood. The largest Irish Festival on the East Coast celebrating Irish heritage with dancing, music, food and craft vendors from 8 a.m. to 8 p.m. daily. Other festivities include a golf tournament, Irish dance lessons, 5K run and 1 mile walk, pipe exhibition, food court, and Catholic Mass. The event concludes with a parade on Surf Avenue from 20th to Spruce and Olde New Jersey Avenues on Sunday. For more information 609.729.0075 or CMCAOH.com
Team USA vs. Team Ireland Amateur Boxing returns in 2023! No Limits Academy, Rio Grande, NJ and Crumlin Boxing Club, Dublin, Ireland (Conor McGregor's amateur boxing club) will face off during this sanctioned event. The matches will start at 6:30 p.m. sharp at Wildwood Catholic Academy in North Wildwood. Tickets are limited and will be available for purchase at the Anglesea Pub for $25 and $30 at the door the evening of the event.