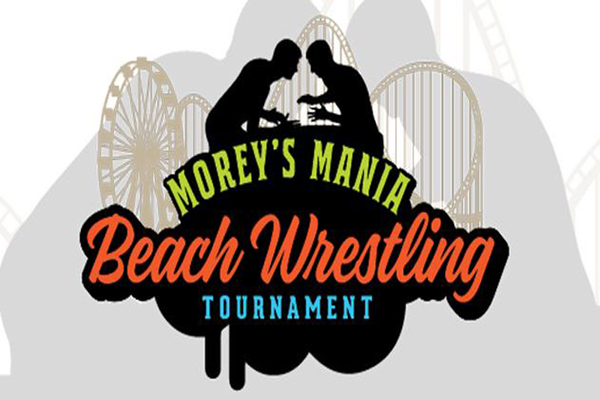 Morey's Mania Beach Wrestling Tournament ~ Cancelled
This event has been cancelled for 2020.
Wildwoods beach at Schellenger Avenue. The brand-new event is open to males and females, ages 7 to adult, with divisions based on age and weight. The various divisions include: male, female, rookie (male & female), men's open division (18 & over), and women's open division (19 & over). Weigh-ins will take place on Friday, August 14th from 4:00 pm – 6:00 pm and on Saturday, August 15th from 7:30 am – 8:30 am. All matches will take place on Saturday. The registration fee is $55.00 + (tax & fees) if registered by April 30 and $70.00 + (tax & fees) beginning May 1. Each registration will include a two-day admission to Morey's Piers three amusement piers and two beachfront water parks with a portion of the proceeds going towards youth programs and charities. Exclusive ticket offers will also be available for friends and family members of each registered wrestler. All matches will take place in 16' diameter rings located just steps away from Morey's PigDog Beach Bar + BQ.  The tournament will follow the United World Wrestling Rules & Regulations for the discipline of Beach Wrestling. For more information visit MoreysPiers.com.   
Add To My Trip