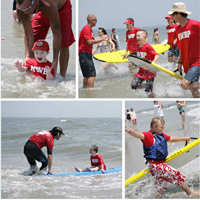 Wildwood Beach Patrol & 21 Down's Day at the Beach-cancelled
This event has been cancelled for 2020.
Wildwood Beach Patrol proudly hosts the 12th Annual Beach day with 21 Down. 10 a.m. The central meeting area will be at Lincoln Avenue and the beach at 10 a.m., in front of Wildwood Beach Patrol Headquarters, at the 20-foot guard tower dubbed "Tower X." 21 Down is a non-profit, Down Syndrome awareness group serving families, educators and healthcare professionals of Atlantic and Cape May Counties. Their mission is to create awareness and acceptance of people with developmental disabilities while providing information, support and community events for their families. The Beach Day incorporates safe, guarded ocean play time for the children and families of 21 Down, as well as opportunities for interaction and educational opportunities with seasoned inlet lifeguards as they discuss beach safety with attendees. Short breaks for lifeguard style relay races, lunch, cold beverages and ice cream are also provided as beach safety is reinforced. The Wildwood Beach Patrol, with the support of local community businesses, strives to create great Wildwood memories for these children and their families with the Beach Day event. For more information 21down.org.
Add To My Trip